---
Quality, Environment, Safety and Hygiene Policies
---
Customer Satisfaction, Law Compliance Environmental Protection, Energy Saving
All Participation, Constant Improvement Human-based, Safety Assurance
---
P-TWO Industries Inc. is a professional manufacture of connector and cable. In the process of
company operation, according to our management philosophy"sustainable operation, integrity with mutual respect, mutual benefits, and effective communication,"all members continuously participate in the Quality and the EPSH (Environmental Protection, Safety and Health) system which is efficiently operating and continuous improvement to fulfill our responsibilities to customers, employees, suppliers, contractors, shareholders and the society.
We are devoted to meet the standard and requirement which are complied with international and local regulations of environmental protection, safety and health. Based on the concepts of Life Cycle,
We also make an all-out effort in Green Design, purchasing, manufacturing and services in our products.We do our best in quality management, environmental protection, energy conservation and provide safe and healthy environment to eliminate hazards of quality issue and risk of environmental protection,safety and health, also to coordinate all related departments to comply with company policies. In addition, to strengthen awareness of all members about quality, environmental protection, safety and health, we would like to implement EPSH training which contained these concepts to train our employees, suppliers and contractors to keep improving our EPSH management and performance.
---
---
Occupational disaster prevention and environmental protection:
---
Disaster prevention:Fire safety management, building safety management, hazardous machinery and equipment management, contractor safety and health management, automatic inspection, hazardous materials management, hazardous materials management, work safety audit, disaster investigation, safety and health education
The Prevention of Occupational Diseases:Health management, protective equipment management, working environment measurement, drinking water quality testing, emergency drug management, work hygiene audit, hazard labeling
Environmental protection:General waste disposal, hazardous business waste treatment, wastewater treatment, noise prevention
---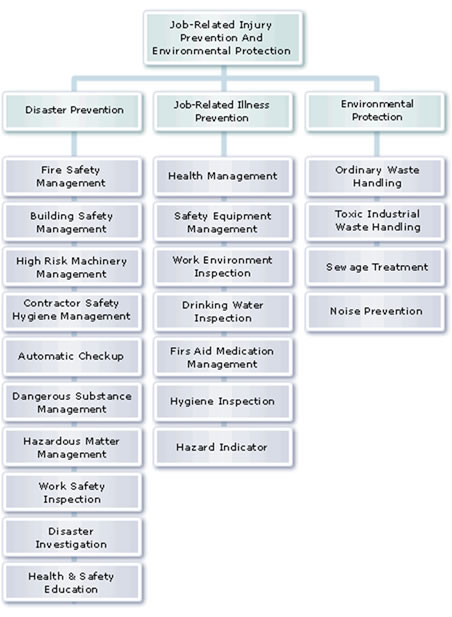 ---
---
---
---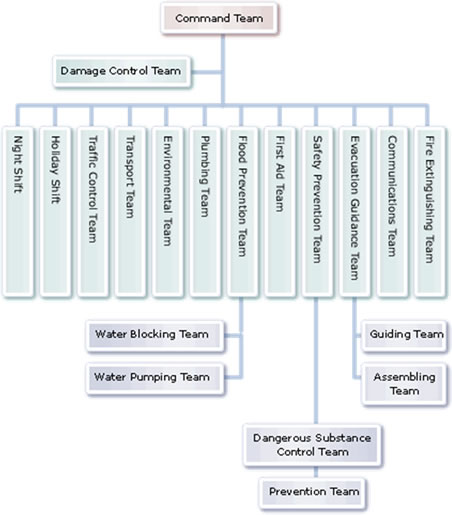 ---
Team
Task
Command
Oversee crisis management operation
Damage Control
• Draw up crisis management plans and mplementation thereof
• Assemble crisis management teams, training and exercise thereof
• Disaster classification, seriousness assessment and announcement
• Disaster investigation, analysis and statistic gathering
• Report to command team and provide suggestions for decision making
Fire Extinguishing
Extinguish fire using appropriate fire extinguishing equipment
Communications
Provide information exchange and communications during crisis
Evacuation Guidanc
• Ensure people are evacuated from pre-designated routes
• Personnel assembly and head count
Safety Prevention
• Dangerous substance control and evacuation
• Disaster area quarantine to prevent spreading
• Fire extinguishing equipment supply
• Chemical substance leakage control
First Aid
Injury treatment, bandaging and first aid assistance
Plumbing
• Electricity usage safety maintenance
• Water and electricity maintenance and supply coordination
• Generator, fire pump and water pump operation
Flood Prevention
• Anti-flood board setup
• Pumping of flood water
Environmental Protection
• Contaminant monitoring and control
• Post contamination disinfection operation
Transport
• Vehicle dispatch
• Personnel and goods transportation
Traffic Control
Traffic control and direction
Holiday Shift
Holiday disaster reporting and rescue
Night Shift
Night time disaster reporting and rescue